Without weather station hardware the WeatherTracker software will do you no good. There are many options to choose from when picking a weather station. I will go through the choices WeatherTracker supports. There are more stations available that WeatherTracker doesn't support. If you have one of these stations or decide to buy one please contact me to see if I can quickly build support for your chosen station. Also, please email or post to the support forum any questions you may have.
Davis makes many consumer level weather stations. Their two main stations are the Vantage Pro and the Vantage Vue.
The Vantage Pro has been around for a long time and is considered the top end of consumer stations that still has an affordable price (<$500). The Vantage Vue is new on the scene it is more compact and easy to set up. It is cross compatible with all Vantage Pro sensors.
The most confusing part of the Vantage line is that they cannot talk to a computer "out-of-the-box". Davis requires that on top of the cost of the station you must also buy an extra piece of hardware called a "WeatherLink Cable" in order to interface with your computer. This cable adds an extra $100 in top of what you buy the actual weather station for. The cable comes in two versions, a serial version where the connector is an old style "com port" (you'll need a USB-To-Serial adapter to use this cable, an extra $10-$20) and a USB version that just plugs into a spare USB port on your computer. Davis also sells a copy of their software when you buy the cable. Davis calls their  "WeatherLink" as well. So there is WeatherLink the cable and WeatherLink the software. When using third-party software like WeatherTracker you won't use the Davis software, just the cable.
This is the station I would get if I was on a sub-$1000 budget since it has the most options for expansion.
| | | |
| --- | --- | --- |
| | | |
| Vantage Vue | Vantage Pro | WeatherLink Cable |
Oregon Scientific has been in the weather station business for a long time. My first station was their wired WM918 station as sold as a Radio Shack WX200 (and various other names). Since then their most popular station was the wireless version - WMR968.
In the last couple of years OS changed their wireless protocol and introduced new stations the WMR100 and WMR200. The old stations used standard serial ports to communicate with a computer the new ones use USB ports. The wired WM918 is no longer sold but the WMR968 is. I would no longer recommend this station unless you are on a tight budget since these stations are on the way out of OS's inventory.
Instead stick with a WMR100 or WMR200. The difference between these two stations are the console since they both share the same sensors. In fact I have one set of sensors but two consoles that both read the same data from the sensors. The WMR200 has some internal memory that records weather data that can be downloaded by WeatherTracker when it starts up. Without this memory you only get a history of data for as long as the program is running. The WMR100 has no internal memory.
LaCrosse makes a large line of weather stations and equipment. Unfortunately they are very closed on the protocols they use for computer communications. We are lucky to have even one series supported, the 2300 series. These are my least favorite stations. I have found them to be the most unreliable and of course I don't like the fact they are almost impossible to talk to directly. But if you have one and think it may be possible for me to talk to them drop me an email and we'll talk. Of course I do want to fully support the 2300 series so let me know if you are having any issues with WeatherTracker and your LaCrosse 2300 station.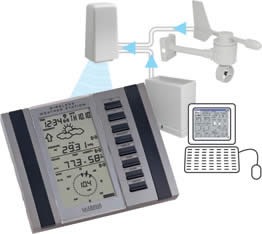 LaCrosse 2300 Station