Here's what we make. Click through to see detailed features.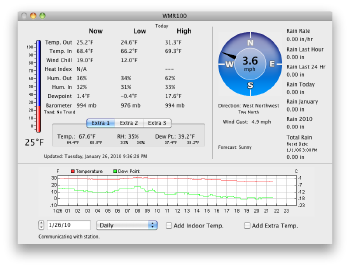 Currently supports the Davis Vantage/Vue, Oregon Scientific WM918, WM968, WMR100, WMR200 and LaCrosse 2300 series personal weather stations.
There is beta support for Davis Monitor/Wizard personal weather stations. (No registration fee required for a station in beta).
Simple display layout shows all primary weather information on one screen.

Saves data to SQLite database or any DB via ODBC connection.
Full AppleScript support.
Ability to upload web pages to FTP server for real-time website weather updates.
Update your Twitter account with custom weather updates.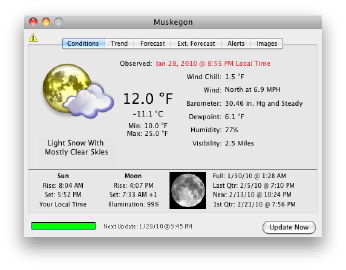 Downloads, decodes and displays METAR data from the National Weather Service for multiple cities

Downloads and displays 24-48 hours trend data.
Downloads and displays up to 8-days extended forecast.
Severe weather, Thunderstorm, Tornado and Flood Weather Alerts
Animated NEXRAD radar images
Configurable GOES satellite images
Full AppleScript support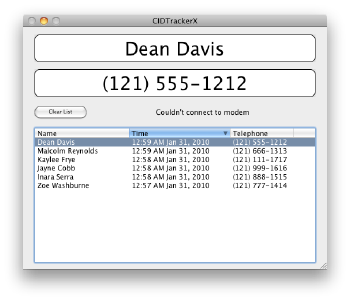 Decodes and displays called ID information from a modem attached to your Macintosh, including Apple USB modem.


Shows list of received calls.

Network to other copies of CIDTracker or many other caller ID programs on the Mac or PC.

Run an AppleScript when any call comes in

Run a specific AppleScript when an individual number comes in

Send a customized E-Mail


Growl notification when call comes in